advertisement
---
WGA Consensus Series
Robert N. Weinreb
The topic for the eleventh World Glaucoma Association Consensus was glaucoma surgery. Global experts were invited and assembled by our international co-chairs, beginning in September 2018, to participate in an online discussion of glaucoma surgery. Consensus was reached for each of the five sections on key issues relating to indications, performance, monitoring, and reporting of glaucoma surgeries.
The results of these thoughtful discussions then were summarized with preliminary consensus statements for each of the sections. The draft of the Consensus Report, including the preliminary consensus statements, was distributed to the societies and partners for comments prior to the Consensus Meeting, which took place in Melbourne on Tuesday March 26, 2019. At this time, relevant stakeholders engaged in a stimulating, educational, and thought-provoking session that reviewed and revised the consensus statements.
Once again, the collective wisdom of the crowd superseded time and time again the opinion of any single expert. The Consensus Report then was finalized by the Consensus co-chairs, participants, and editor.
Robert N. Weinreb, Consensus Chair
Read all Consensus statements here https://wga.one/wga/consensus-11/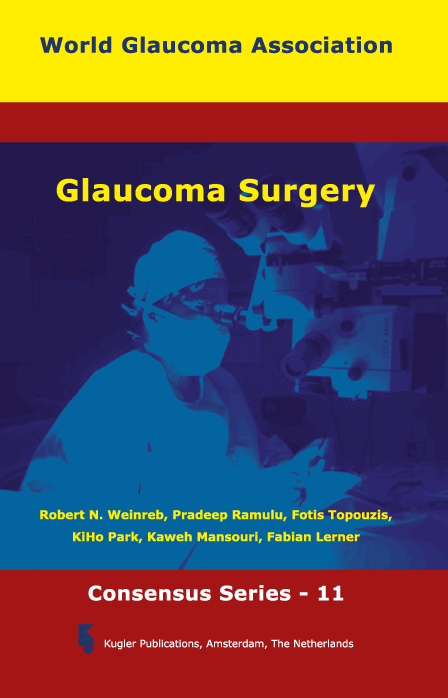 Edited by: Robert N. Weinreb, Pradeep Ramulu, Fotis Topouzis, KiHo Park, Kaweh Mansouri and Fabian Lerner
2019. Many photos and figures. Hardbound.
ISBN-10: 90 6299 280 3
ISBN-13: 978 90 6299 280 5
Published by: Kugler Publications.
Click here for more information on all publications in the Consensus series.