advertisement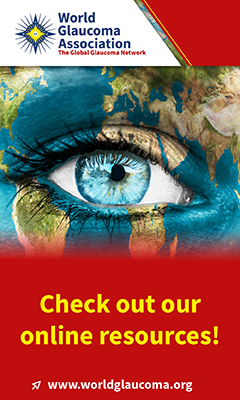 ---
From the WGA
---
Dear IGR readers,
We are happy to let you know that the WGA continues to expand our educational resources online and to develop numerous opportunities for remote learning by our members. Our collaborative work as a society helps our members to deliver the very best care to our glaucoma patients.
On April 14, we held the second edition of the WGA Surgical Grand Rounds which addressed the topic of, 'The Management of Hypotony following Glaucoma Surgery'. The session was viewed by 1,124 participants across 117 countries. The recorded session is available to everyone with a WGA#One account. The third edition on Malignant Glaucoma and Nanophthalmos with Glaucoma took place on July 7, and will be available on-demand for all as of August 5. Find out more at the WGA website: wga.one/wga/surgical-grand-rounds.
At the recent annual ARVO meeting in Denver (May 1-4), the WGA hosted the 38th Information and Planning Exchange (IPE) meeting in person, with many participants also calling in from around the world. Major stakeholders in glaucoma care and research, including our top industry members, met to collaborate and network with the concerted goal to defeat glaucoma. Additionally, thanks to all of you who attended the ARVO meeting and stopped by the WGA booth. If you did not have the chance to get your copy of the WGA Patient Guide at our booth, you may download it here.
The WGC-2023 Program Planning Committee, chaired by Drs. Kaweh Mansouri and Arthur Sit, came together during the 15th Congress of the European Glaucoma Society (June 4-8) in Athens, Greece. They committee is creating a wonderful scientific and clinical program that will bring together the preeminent researchers, clinicians, and surgeons from around the globe as our faculty to educate and engage with our attending participants. Please mark your calendars for the next World Glaucoma Congress to take place June 28-July 1, 2023, in Rome. Abstract submission and registration will open in August 2022.
In collaboration with the World Society of Pediatric Ophthalmology and Strabismus (WSPOS) we presented the 8th WGA Global Webinar on Saturday, May 21, focusing on the topic of 'Childhood Glaucoma'. If you wish to view this excellent session, we encourage you to watch the recording on our website: wga.one/wga/wga-global-webinars.
The new talks in the Fundamental Questions in Glaucoma Video Lectures series have been released on July 18. Everyone with a WGA#One account will be able to access these talks and other educational resources through the WGA website. If you are a member of one of our affiliate glaucoma societies and do not have a free WGA#One account yet, please be sure to create one today.
Best wishes,
Neeru Gupta, MD PhD MBA FRCSC DABO
President

Shan Lin, MD
Executive Vice-President

Kaweh Mansouri, MD MPH
Associate EVP
---