advertisement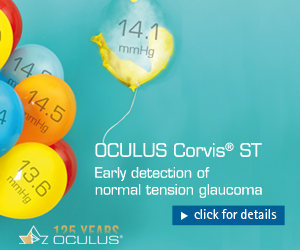 ---
From the WGA Executive Office
---
Dear IGR readers,
With the 8th World Glaucoma Congress just around the corner, the WGA Executive Office is fully focused on the final preparations. We are coordinating all the WGA committee meetings, finalizing the content for the congress app and fine-tuning the 11th Consensus Meeting on Surgery: we truly start to feel excited. Be welcome and join us in Melbourne from March 27-30 for an educational, entertaining and collegial congress!
During WGC-2019 we offer all our delegates a complementary printed edition of the IGR 19-4. At the time of the congress, you can pick up your free printed edition at the WGA Networking Area.
Please make sure to download the WGA app, in which you will find all information related to WGC you will need during your stay in Melbourne. Find out which sessions are running, and which are up next, find your way through the convention centre effortlessly using the floor plans, explore your virtual congress bag and find useful information about Melbourne.
This edition, it is time for us to give extra credit and a big thank you for all her hard work to Mariska van der Veen, who has been the Executive General Manager of the World Glaucoma Association for over twelve years now.
If you do not yet receive an e-mail notification when a new issue of IGR is published, please pass by the WGA Networking Area during the congress.
We are happy to assist you with updating or creating your WGA#One account.We hope you enjoy reading this issue of the IGR and wish you a wonderful time in Melbourne. You can contact our WGA Executive Office (info@worldglaucoma.org) if you need any information or have questions on IGR or WGA-related matters.
Shan Lin
Executive Vice President
---
Get to know us

Mariska van der Veen, WGA Executive General Manager, is pleased to have worked for the WGA Executive Office for the past 12 years. Working as an associate executive was unknown to Mariska, when she first started working for the WGA in 2006 after being a professional congress organizer for many years. During the first years, she really invested in getting to know all stakeholders, of course the Glaucoma Society members, board & committee members but also the industry representatives.
Over the past years, a lot has changed, especially the number of volunteers actively involved in the association, which results in the many projects that have been initiated, like the online course program, the patient education website, the fellowship program, IGR, 8 World Glaucoma Congresses, 10 consensus meetings & publications, as well as the 1000's of activities for World Glaucoma Week.
The WGA could not do all of this without this splendid support of glaucoma specialists and industry members from all over world. Thank you all for making this possible! Looking forward to meeting you at the 8th World Glaucoma Congress in Melbourne or at another future occasion!