advertisement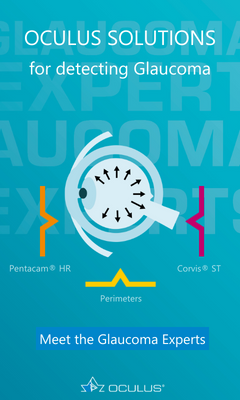 ---
Editors Selection IGR 22-2
Surgical Treatment: Trabeculectomy More Efficient than Microshunt?
---
Baker et al. report the one-year results from the first prospective randomised head-tohead comparison of trabeculectomy to the Preserfloc©MicroShunt. This is a very large study including a total of 527 eyes (3:1 MicroShunt vs. Trab) over 29 centers. The investigators are to be congraulated for conducting such an important and difficult study.
The authors reported higher IOP lowering (45.4 vs 29.1%), lower number of medications (0.3 vs 0.6), and better success rates (72.7 vs 53.9%) for trabeculectomy.
At first glance, the results of the MicroShunt may look disappointing. I believe, however, that this is a case of the glass half empty or half full:
Despite not achieving IOP reduction to the levels observed with trabeculectomy, patients in the MicroShunt group did achieve a mean IOP of 14.2 mmHg on an average of 0.6 medications, better than most reported MIGS studies. Consider also that procedures that result in a very low IOP may entail greater risk and not be necessary for all patients. In fact,

there was a significantly lower incidence of hypotony (28.9% vs. 49.6%) with the MicroShunt.

Fewer patients required postoperative interventions after MicroShunt, resulting in less frequent postoperative visits.

By month 1, 6% of patients in the MicroShunt group vs. 49% of trabeculectomy eyes required postoperative interventions.

This may result in better quality of life for patients.
The MicroShunt group included a larger portion of African American patients; this population is known to be at increased risk of bleb fibrosis resulting in surgical failure.
The MMC concentrations ((0.2 ± 0.4 mg/ml, 2 ± 3 minutes) used in this study were lower than in other studies with the MicroShunt that have reported higher success rates (0.2 ± 0.5 mg/ml for up to four minutes).
Furthermore, this study was conducted across 29 sites, with 58 surgeons, many of whom were not experienced with the MicroShunt implantation technique and postsurgical management, whereas the trabeculectomy results reported here appear to be better than many previously published results and attest to the surgeons' excellence and familiarity with trabeculectomy.
While the scientific community is awaiting the two-year results, these results are encouraging for the use of the MicroShunt and should be emulated by other head-to-head comparisons of standard filtering surgery to MIGS techniques, and in diverse ethnic populations.
---
---