advertisement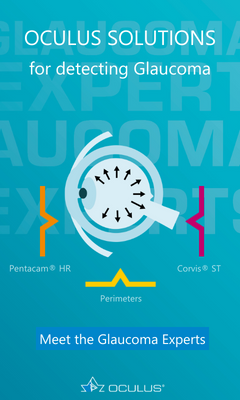 ---
Editors Selection IGR 22-2
Surgical Treatment: Applying MMC: Sponges or Sub-Tenon Injection?
---
Kandarakis and colleagues present here the results of a randomized clinical trial comparing the safety and efficacy of sub-Tenon injection versus sponge application of MMC during fornix-based trabeculectomy surgery in primary open angle glaucoma (POAG) patients.
In the current study, 56 eyes of 49 adult POAG patients were randomized to receive either sub-Tenon injection or sponge administration at the time of trabeculectomy. In addition to intraocular pressure (IOP), endothelial cell count, best corrected visual acuity, number of IOP lowering medications, and bleb morphology were evaluated. Complete success was defined as IOP ≤ 14 mmHg without the need for medication therapy.
The authors found no significant differences in IOP reduction, endothelial cell count, or complication rates between groups. Using the Indiana Bleb Appearance Grading Scale, it was notable that blebs in the injection group had significantly lower height, greater extent, and decreased vascularization compared to blebs in the sponge group. However, differences in bleb morphology did not appear to be associated with a difference in surgical success after one year.
In contrast to previous studies, this study benefits from the direct, prospective comparison of a homogenous sample of adult, white patients with a diagnosis of POAG and no previous eye surgery. Additionally, MMC concentration and duration were fixed regardless of surgical risk factors, thus allowing for a more direct comparison of these two methods. In doing so however, the study findings may not be translatable to other ethnic groups or types of glaucoma. Further study is needed to determine whether the more favorable bleb morphology in the injection group has clinically meaningful long-term benefits that are realized beyond one year.
---
---